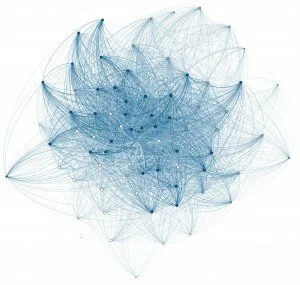 Canada's former Parliamentary Budget Officer Kevin Page made the distinction between his office and that of the Auditor General as a matter of perspective and direction; Auditors go back an analyze what is done, whereas his office was meant to look forward, seeing if the government's projections for the future added up. This requires a different set of tools, but the ability to project forward is critical in informing strategy and decision-making.
As more organizations wake up to the importance of "the social graph" in understanding the patterns of connection and collaboration within and across their own networks, many are caught in an "audit" world, with no model for setting strategy around social networks. Simply put – most tools and research around Social Network Analysis and even network science is inherently backwards looking, with no entry point for strategy and design.
Pentland's writing on "The New Science of Building Great Teams" is instructive of the difference; passive monitoring of different team configurations reveals that different densities and patterns of interaction correlate to different measures of team output, therefore, we should encourage those densities and types of interaction.
Great.
But how was the team formed? Why was it formed? What were they working on, and did it matter if they cared about what they were working on?
More importantly; if I were to assemble a new team from across my organization to achieve a specific goal, what should guide my decisions about how to assemble that team?
Any forward looking, strategic questions of that nature tend to find very few sources of input.
I take the findings of SNA as a given; great input, and generative of an awareness of network dynamics that represents critical table stakes for operating large or diverse teams. But to confidently assemble teams, networks, movements or communities, a framework for answering forward looking questions which link network interventions with desired strategic outcomes is critical.
First – a set of "design principles" are needed, gleaned from a broad set of disciplines which can provide guard rails for design, while also a framework for hypothesis testing. Scott Page's research on diversity is an example of fertile ground for input here.
Second – a broader model for connection or network archetypes is needed in order to connect intended outputs of a group with decisions about its purpose and structure; I outline this separately here.
Third – a model for the role of the individual in the process of community formation, as I've outlined here, connects the whole with the individual, which is important for the last piece;
Fourth – a solid analytical framework and matching engine are needed to gather information at scale as the basis for team formation.
Absent these pieces, much work in analyzing networks is difficult to mobilize strategically, and thus its value to decision makers is diminished. I'll be fleshing out the components of this approach in greater detail in further writing in this space.